On August 15, 2019, the commission said it invited Obono-Obla for questioning after his removal from of  fice on August 14, 2019.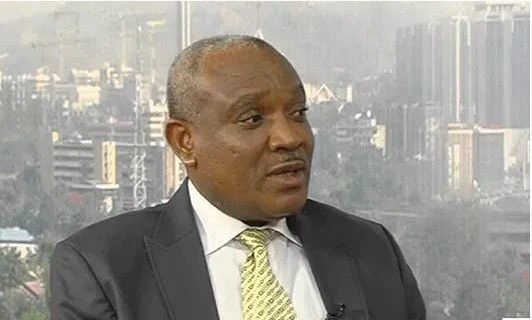 Okoi Obono-Obla
Former chairman of the Special Investigation Panel for the Recovery of Public Property, Okoi Obono-Obla, who was declared wanted by the Independent Corrupt Practices and other related offences Commission, has questioned the wanted order placed on him by the commission.
He said he was never served a summon.
The PUNCH had reported exclusively on Friday that Obono-Obla, who was declared wanted by the ICPC on October 22, 2019, released a message on his Facebook page on Thursday, which suggested that he was in Nigeria and attending social functions despite the ICPC claim that he had left Nigeria in August and yet to return.
Saturday PUNCH also reported exclusively that the ICPC spokesperson, Rasheedat Okoduwa, on Friday, said the wanted order on Obono-Obla had yet to be lifted.
On August 15, 2019, the commission said it invited Obono-Obla for questioning after his removal from office on August 14, 2019.
In a statement by Okoduwa in October, Obono-Obla was accused of failing to honour the commission's invitation over a number of allegations bordering on alleged fraud and corruption.
The statement said there was evidence that Obono-Obla left Nigeria on August 17, 2019, through the Murtala Muhammed International Airport, Ikeja, Lagos, and had not returned since.
In an excerpt from an interview Obono-Obla granted a news medium, which he posted on his Facebook page on Monday, the former SPIP boss said he committed no offence that would warrant his being declared wanted by the ICPC.
He also said there was no evidence of summons, stating in the interview that he was not given a fair hearing.
In the interview, Obono-Obla said, "I challenge the ICPC to bring forth the evidence against me. They say I was living above my means; this is laughable. I built my house in my place, Ugep, Yakurr LGA, Cross River State, in 2013. The foundation for my Calabar house was also dug in 2013, the house is still there, uncompleted. While I have a small house in Abuja, long built before this appointment, I still live in a rented apartment in Abuja.
"I have declared my assets and if you see or know anything different from the assets I have listed, go to the EFCC and make a complaint against me. Don't go to the ICPC because the place is politicised. The ICPC chairman thinks I am his rival.
"What am I wanted for? The panel was disbanded and the President asked the ICPC to send a report of my activities within 14 days. Till today, that report has not been sent. Rather, they went and declared me wanted when there was no evidence that I was served with their summons."
Obono-Obla also stated that there were people who were still walking free even after being investigated, with billions of dollars found in their accounts.
He alleged in the interview that his travail was politically-motivated because he was from the minority part of the country.
When contacted on the latest post from Obono-Obla and claims, the ICPC spokesperson, Okoduwa, insisted in a text message she sent to our correspondent that there was enough evidence that the former SPIP boss was formally invited twice.
She said, "We invited him twice formally through the Solicitor-General of the Federation and twice through his former chambers. The letters were all acknowledged. On the allegation of living above his means, the commission's invitation is still open for him to present evidence to the contrary."